SERVICES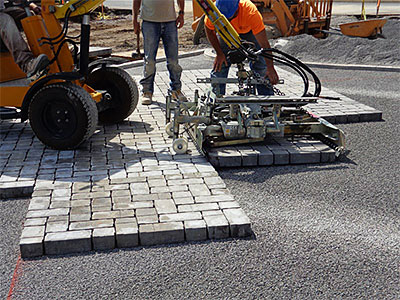 Hickory Hardscapes offers complete hardscape design and installation services to residential and commercial clients. Our team of professional and seasoned personnel follows industry-approved methods and uses top-caliber materials to ensure the quality of the structure we build. We have worked on some pretty challenging tasks for Tennessee clients, and we're proud to say that we've managed to offer their expected results each time. Call us now at (865) 675-6900 to learn more about our services that are truly within your budget's reach.
Interlocking Concrete Pavers
Interlocking concrete pavers are the best materials to use for your paving project. For one, they can be used in various applications such as decks, patios, walkways and driveways, steps, and parking areas. They are also easy to install and maintain. Our in-house crews are capable of installing concrete pavers on residential and commercial properties like hotels and resorts. We are among TN's certified paver installers, hence assuring our clients that we have the skills and knowledge to create their dream paver amenities.
Read More About Interlocking Concrete Pavers »
Retaining Walls
At Hickory Hardscapes, we design and build reliable retaining walls that are also eye-catching. Our crews have installed numerous retaining wall structures in residential and commercial properties across the state. The walls we install are functional as they make idle areas useable, add curb appeal, and improve the landscape's overall look. We use only top-grade retaining wall blocks to ensure the structure's durability, functionality, and aesthetic appeal. We can also make your outdoor space safer with the installation of these structures.
Read More About Retaining Walls »
Permeable Pavers
One of the emerging trends in hardscaping is the use of permeable pavers. Our company is a staunch advocate of permeable paving solutions, given the many advantages and benefits of such materials. They are environment friendly since they help reduce storm water runoff, lessen the heat island effect, and lower irrigation needs, as well as make both residential and commercial spaces attractive. Their proven benefits make them environment friendly, cost-effective, and perfect for all hardscaping projects. Incidentally, we are the right company to hire when it comes to permeable paving installation tasks with our lengthy list of successfully completed projects and satisfied clients. With us, you're assured of world-class paved amenities made from the finest materials available.
Read More About Permeable Pavers »
Aggregate Placement
Among the best ways to speed up installation of hardscapes and other structures is through the use of modern equipment for aggregate placement. At Hickory Hardscapes, we use a high-speed conveyor system that allows for fast, hassle-free placement of construction materials like soil, sand and other aggregates. Unlike when you hire contractors that employ raw manpower, getting a contractor with this kind of specialized equipment guarantees faster job completion and bigger savings on manpower costs. Our aggregate placement services have been proven effective in many projects, and we'd be glad to show you some of our completed works for reference.
Read More About Aggregate Placement »
Mechanical Installation
We can handle small to large paving projects with our complete paving tools and equipment. We urge you to choose our mechanical installation services if you want fast and reliable installation. We use modern paving equipment such as the ProBST VM-Series PaverMax system, which allows for quick paver installation with reliable outcomes. So whether you need your entire parking area paved in a few days or your deck to be completed within a 24-hour period, we're the perfect company to hire.
Read More About Mechanical Installations »
Cities that are served in Tennessee (TN):
Knoxville, TN
Farragut, TN
Loudon, TN
Sevierville, TN
Louisville, TN
Pigeon Forge, TN
Chattanooga, TN
Nashville, TN
Brentwood, TN
Friendsville, TN
Gatlinburg, TN
Lenoir City, TN
Concord, TN
Maryville, TN
Cleveland, TN
Franklin, TN
Murfreesboro, TN